JCB Fastrac 135 Tractor
(1993-1997)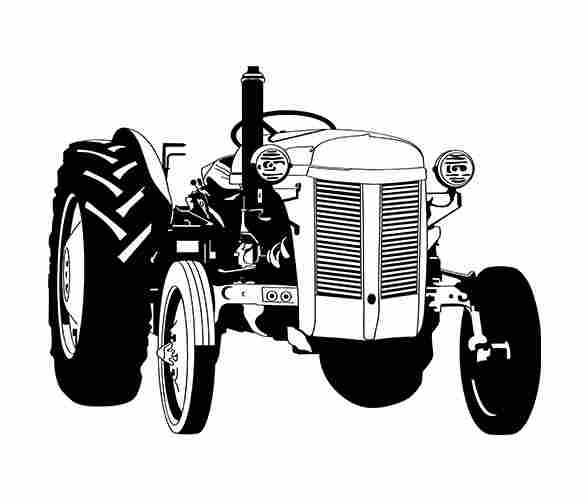 Series:
Equipment Type:
Factory:
Full Specifications
Description

Perkins 1000-6 HR5/turbocharged diesel/6-cylinder/liquid-cooled

Displacement

365.2 ci/6.0 L

Bore/Stroke

3.937x5.00 inches/100 x 127 mm

Power

147 hp/109.6 kW

Fuel system

direct injection

Air cleaner

dual dry element

Rated RPM

2400

Torque

449.9 lb-ft/610.1 Nm

Torque RPM

1400

Starter volts

12
Description

Perkins 6.0L 6-cyl diesel
Type

synchromesh

Gears

36 forward and 12 reverse

Description

Six gears (1-6) in three ranges (low, medium, high) plus reverse range. Two-speed electro-hydraulic power shift. Four design speed options available, with 40, 55, 65, or 75 kph top speed.
Chassis

4x4 4WD

Differential lock

electro-hydraulic rear

Steering

power assist

Brakes

pneumatic dry disc

Trailer brakes

pneumatic/hydraulic

Cab

Cab standard with air conditioning.

Transmission

36-speed synchromesh
Fuel

74 gal/280.1 L

Hydraulic system

15.85 gal/60.0 L/20.3 gal/76.8 L
Capacity

15.85 gal/60.0 L/20.3 gal/76.8 L

Pressure

3045 psi/210.0 bar

Valves

2

Pump flow

15.85 gpm/60.0 lpm
Rear Type

III/IIIN

Control

electronic draft control

Rear lift (at ends)

13230 lbs/6001 kg/15435 lbs/7001 kg

Front Hitch

optional

Front lift

6615 lbs/3000 kg
Rear PTO

independent

Clutch

electro-hydraulic

Rear RPM

540/1000 (1.375)/1000 (1.75)

Engine RPM

540@2118/ 1000@2196

Front PTO

independent

Front RPM

540/1000 (1.375)/1000 (1.75)
Ag front

480/70R28

Ag rear

480/70R28
Wheelbase

118.5 inches/300 cm

Length

227 inches/576 cm

Width

98 inches/248 cm

Height (cab)

114 inches/289 cm

Weight

14374 lbs/6520 kg *Tractor equipped with 495/70R24 tires, front pto, and front hitch.

Ground clearance

19 inches/48 cm

Front tread

74 inches/187 cm

Rear tread

74 inches/187 cm
Wheelbase

118.5 inches/300 cm

Weight

14374 lbs/6520 kg

Front tire

480/70R28

Rear tire

480/70R28
Ground

negative

Charging system

alternator

Charging amps

85

Batteries

2

Battery volts

12