Massey Ferguson 1105 Tractor
(1978)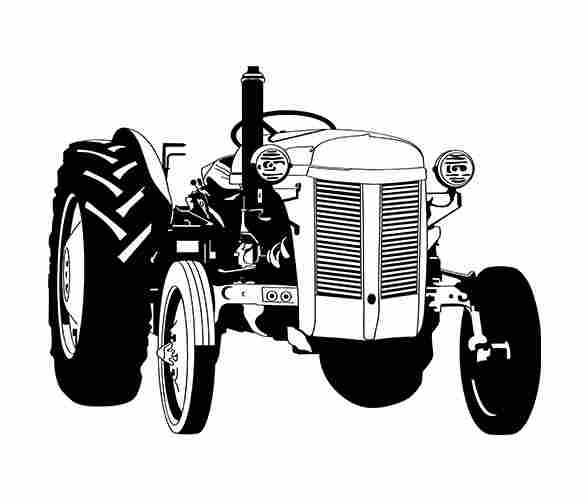 Full Specifications
Description

Perkins ATC6.3541 turbocharged diesel 6-cylinder liquid-cooled

Displacement

354ci / 5.8L

Bore/Stroke

3.875x5.00inches / 98x 127 mm

Fuel system

direct injection

Air cleaner

dry

Compression

16:1

Rated RPM

2200

Starter volts

12

Oil capacity

16qts / 15.1L

Coolant capacity

22qts / 20.8L
Description

Perkins 5.8L 6-cyl diesel
Description

12-speed two-speed power shift 8-speed gear
Transmission

Multi-Power

Type

two-speed power shift

Gear

12 forward and 4 reverse

Clutch

356mm dry disc

Description

Three gears (1-3), plus reverse (R) in two ranges (low-high), with additional two-speed Multi-Power power shift.
Description

With 18.4x38 rear tires.
Type

gear

Gear

8 forward and 2 reverse
Description

With 18.4-38 rear tires.
Description

12-speed two-speed power shift 8-speed gear
Description

Two-wheel drive Power steering Hydraulic disc brakes Cab optional.
Fuel

55gal / 208.2L

Hydraulic system

22gal / 83.3L
Type

closed center

Capacity

22gal / 83.3L

Pressure

2100psi / 144.8bar

Pump flow

20gpm / 75.7lpm
Rear Type

II/III

Control

position and draft control
Rear PTO

independent

Rear RPM

540/1000

Engine RPM

540@2000 / 1000@2000
Ag front

11.00-16

Ag rear

18.4-38
Wheelbase

109inches / 276cm

Weight

10750 to 12320 pounds

Front tire

11.00-16

Rear tire

18.4-38
Charging system

alternator

Battery volts

12